Database Statistics
Men
Women
Total
Players:
9571
7139
16710
Tournaments:
1688
1263
2951
Search other dates...
Find us on Facebook for more news
Latest News and Feature Articles
12/8/2016
Two FIVB events highlight Australia beach volleyball calendar
Lausanne, Switzerland, December 8, 2016 – Three major international events and an Asian tour event are the highlights of the biggest season in Australian beach volleyball since the Sydney Olympics.
Read more from fivb.org
12/7/2016
Ludwig/Walkenhorst: Rio 2016 gold medal victory made into film
Lausanne, Switzerland, December 7, 2016 – Germany's Laura Ludwig and Kira Walkenhorst's golden moment at the Rio 2016 Olympic Games is the subject of an 85-minute documentary film by Guido Weihermuller entitled 'Ludwig/Walkenhorst – Road to Gold'.
Read more from fivb.org
11/30/2016
Confirmed 2017 FIVB Beach Volleyball calendar announced
Lausanne, Switzerland, November 30, 2016 – The calendar of the 2017 edition of the FIVB Beach Volleyball World Tour was confirmed at a meeting of the World Tour Council on Wednesday with highlights including the 2017 Beach Volleyball World Championships in Vienna, Austria from July 28 to August 6, Swatch Major Series events in Fort Lauderdale, Porec, Gstaad and Hamburg, a five-star event in Rome and the Swatch Beach Volleyball FIVB World Tour Finals from August 22 to 27 at a venue to be announced in Canada in March.
Read more from fivb.org
View the News Archive...
Special Links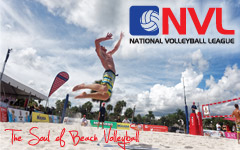 Upcoming Tournaments
Dates
Tour
Tournament
Gender
Purse
Jan 12-14, 2017
FIVB
Pacific Harbour One Star, Fiji
M&W
TBD
Feb 7-12, 2017
FIVB
Fort Lauderdale Major, United States
M&W
TBD
Feb 15-18, 2017
FIVB
Kish Island Three Star, Iran
M
TBD
Mar 3-5, 2017
FIVB
Shepparton One Star, Australia
M&W
TBD
Mar 17-19, 2017
FIVB
Sydney Two Star, Australia
W
TBD
Apr 15-16, 2017
FIVB
Selangor One Star, Malaysia
M&W
TBD
Apr 20-23, 2017
FIVB
Xiamen Three Star, China
M&W
TBD
May 3-7, 2017
FIVB
Rio de Janeiro Three Star, Brazil
M&W
TBD
May 11-14, 2017
FIVB
Prague Four Star, Czech Republic
M&W
TBD
May 23-28, 2017
FIVB
Lucerne Four Star, Switzerland
M&W
TBD